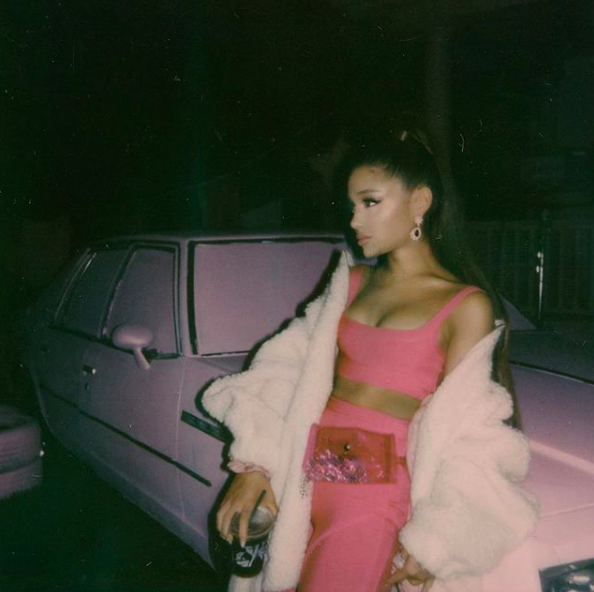 thank u, next
I feel like I go back and fourth with this album, in comparison I always prefer Sweetener because that whole time period was simply the nicest and it has some beautiful Ari memories that I like to sit and re-live when listening to it. thank u, next, on the contrary, is a lot harsher. It's one of those albums where I look at the tracklist and think mm…don't really wanna listen to any of these songs right now, there's probably only one that I feel like listening to at the moment.
However, as time goes on I find it growing on me and becoming something I keep going back to when I'm emotional. It's a really heavy album. It's so heavy. I feel like after to listening to it I always take a deep breath and think wow, don't wanna go through that again for a while.
But I'm finding comfort in it lately even though I don't really…like it? I do like it, of course I do, but it's one of those things that I feel like is right there in my face and I'm thinking…I don't wanna deal with you right now. Let me listen to Sweetener and enjoy myself, I don't need the heaviness that is thank u, next because it hurts. It's too relatable. There's too much pain, she said too many things that I know all too well, too many things that are real. Even the happy and more upbeat songs aren't actually happy, because the underlying message, underneath it all…is pain. I think it's because we knew how much pain she was in when making this album, it was so painful for her to do. Some people when going through pain like this make art, some shave their hair, some take it out on themselves, some turn to alcohol…she, turned to music. She made an album – for no other purpose than to just make it. To help her get through. The fact she ended up releasing it wasn't a thought when she was there, writing those lyrics and recording that heavy, horrible stuff.
She's barely even been able to get through the songs lately, each performance is full of missed words and cracked notes because she's on the verge of tears every time she opens her mouth to sing. It's painful, it's heavy. It hurts to see her go through it, it hurts to know that she's so human and that she goes through pain just like the rest of us, like I do. It's so relatable. Sometimes I do wish these 'mega starts' weren't like us because maybe then it'd save them the pain of being human. Life is hard, and being a human amongst it all…it's heavy. I don't want to relate, but I do.
To stand up there and crumble in front of the whole world…that's something. To know everyone is watching you break yet you're showcasing it for everyone to see because we're all human and we have to keep going because we can still get through it…that's something. It's vulnerable and fragile, it's human, it's us. She's stood there alone in front of thousands of people looking like a tiny fairy princess with a giant moon behind her head singing about things that hurt and she can barely get her words out because everything is so sad and it hurts so much but she's still doing it anyway. I really love that woman. I really, really do.
Like I said, the album, I keep going back to it and it's growing on me because I know I need it. I need it but I don't want it and so my brain is telling me not to enjoy it. It reminds me of one of my favourite things I've ever written when I was talking about Blond by Frank. It kind of came about in the same way. I still also find myself conflicted with how I should be spelling Blond, because in the grand scheme of things it doesn't matter but I know that he put the album out as Blond with no e, so I should probably do the same.
I feel like when I play these tracks, it's just Ari in the room, and I'm there beneath the echos gifted with the pleasure of being able to listen. It hurts. I feel like she's singing to herself and also to me, like it's something we share. It's so heavy and emotional yet Heavenly at the same time, like an angel's singing. Well, I guess there is. It's so honest. It's so, oh my God I'm not okay and I'm about to lose my mind and I'm so scared and sad and full of pain. And I'm like you know what? Me too. Hold my hand and we'll get through it together.
Here are some lines that hurt.
imagine a world like that, why can't you imagine a world like that?
but all i can say, is at least i'll wait for you
i admit that i'm a lil messed up, but i can hide it when i'm all dressed up
i'd rather be alone tonight, you can say i love you through the phone tonight
i'm happy for the love and all of the above, if i'm being honest i done been through way too much
gotta get control of it, why can't i let go of it
he just comes to visit me when i'm dreaming every now and then
painted a picture, i thought i drew you well
can't hold that shit against you, guess i did it to myself, thought you were somebody else
wish i could say thank you to malcolm, 'cause he was an angel
cause her name is ari, and i'm so good with that
forget about it, forget about him, forget about me.
Chlo .xx