Hello my loves,
Here's my (late) December book reviews!
❄️❄️❄️
Everything I Never Told You – Celeste Ng
4/5 Stars
☆☆☆☆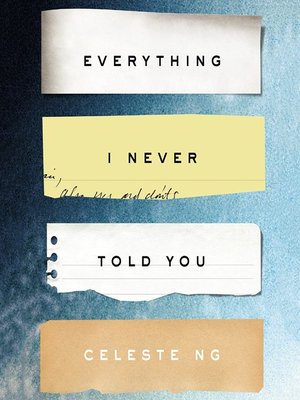 This story follows the Lees, a Chinese American family living in 1970s Ohio. Lydia is the favourite child of the family, but one day she's found at the bottom of the local lake and no one knows how or why. We follow the family through grief and the secrets they've been keeping from each other, as they realise that actually, no one may know each other as well as they thought they did at all.
After now having read both Little Fires Everywhere and Everything I Never Told You, I can say this one is my favourite. Someone said that it felt like every sentence in this book had a purpose and I could not agree more, this was such a beautiful novel and Celeste Ng just has such a way with words, I love her writing style so much. I cannot wait to see what she brings out next because she's now become one of the authors I want to read everything from!
❄️
Dear Martin – Nic Stone
4/5 Stars
☆☆☆☆
This book is about a guy named Justyce who essentially writes letters to Martin Luther King about the struggles he faces in his life as a young black man. It reminded me a lot of The Hate U Give, and it kind of is The Hate U Give but from a male perspective this time instead, and I really, really loved it. It's short, but it does the job and encompasses everything it needs to, and I thoroughly enjoyed it, if that would even be the right word to use in this context. I'm making a conscious effort to read more black authors and stories such as this, and I hope to read more by Nic Stone in future.
❄️
The Underground Railroad – Colson Whitehead
3/5 Stars
☆☆☆
This book follows Cora, a slave on a cotton plantation in early 1800s Georgia. Her mother escaped the plantation when Cora was only a baby, and no one has ever heard from her since. One night, a fellow slave, Caesar, asks Cora to escape and run away with him, and Cora agrees. We follow Cora on her journey to "freedom" via the underground railroad, a place created to help secretly transport former slaves from one place to another.
I never really planned on reading this book until I picked it up on holiday, so I didn't really have any expectations going into it. For obvious reasons I feel very unqualified to critique this novel but I didn't "enjoy" it as much as I'd hoped to, it felt very flat for me at times. Trigger warning that there is of course a lot of racism and graphic violence included in this novel, which I'm glad Whitehead didn't cut back on as this is such a brutal tale but one that needs to be told. I don't know if I will be jumping to read Whitehead's other novels as I'm not sure his writing style is one that I particularly enjoy or find captivating, but either way I am of course incredibly grateful to have read this book, as it is so important.
❄️
The Black Kids – Christina Hammonds Reed
4/5 Stars
☆☆☆☆
First of all, I love the cover of this book so much.
This story follows Ashley, a wealthy black teenager who finds herself caught amongst the 1992 riots for Rodney King – a black man who was beaten to death by 4 police officers, who were later acquitted for his death. Ashley's group of friends are also wealthy, and they're also white (I believe all of them are white, though don't quote me on that as I can't fully remember) – there is so much subtle racism in this book that I was for lack of better wording, so grateful for it. It's things like this that I think are so important when tackling racism because there are so many people that make inappropriate comments yet don't even know they're doing it. Ashley's friends are constantly making subtle, subconscious remarks to her that are of course, racist, but Ashley never pulls them up on this as she either A). doesn't see the problem, B). isn't bothered as they're her friends or C). doesn't want to cause a scene by being offended and calling them out on it.
After the riots, Ashley gets caught between two worlds and it becomes a kind of "us" and "them" type scenario. She's one of the few wealthy black families in the neighbourhood and so socially, she's in with the white crowd as this includes most of her friends, she goes to a prestigious school filled with mostly white students, and she also doesn't relate to the financial struggles that fellow black kids her age are facing who live in poor and underfunded neighbourhoods. However, she still is of course, black, and despite her parents wanting to keep her out of trouble and danger, will she choose to fight for what she believes in?
I really loved this book, it was just so good. It included the right amount of everything and despite the subject matter, I really enjoyed reading it. The characters were brilliant and I really liked Ashley a lot, this was such an amazing debut and I can't wait to see what this author brings out next!
❄️
Daisy Jones & The Six – Taylor Jenkins Reid
4/5 Stars
☆☆☆☆
This book is written in an interview-like style and follows the story of 1970s rock group Daisy Jones & The Six.
It's sick, basically. It's so good.
It's kind of like Fleetwood Mac and sex, drugs and rock and roll and the beautiful and mysterious women that got swept up into it along the way. It gave me lots of Lana vibes, basically.
I really, really loved this book. My only wish is that it had been longer! I wish we'd been told more about Daisy's life before the band (I would've been super interested in a book solely about just her because I fell absolutely in love) and I also wish we'd been given more info about what happened after the band ended – again, I could have read an entire book solely just dedicated to the character's lives after.
Also…the ending. I know this is essentially a memoir and that these are interviews so the intent is to emulate real life and therefore if nothing happened…nothing happened, but still, I just wish the ending was…more. But I understand it's acting as real life and in real life you can't always get more and it is what it is.
I underlined and annotated the heck out of this book, I want to take it with me everywhere and just read it because I feel like I just want to bring Daisy Jones with me everywhere, I cannot believe Jenkins Reid created a character so insanely good. This will definitely be a re-read for me – I'm not sure how anyone couldn't like this and if you don't, I don't wanna hear it. Lalalalala.
❄️
Woven in Moonlight – Isabel Ibañez
3/5 Stars
☆☆☆
Did I buy this book purely for the front cover and the title?
Yes, yes I did.
I liked the cover so much in fact that I actually paid a pretty penny for the FairyLoot edition of this too because well, you gotta do what you gotta do.
This book is a fantasy and follows Ximena, a decoy for the Condesa who is the last remaining Illustrian royal. When their enemy King demands the Condesa's hand in marriage, Ximena has to go in her place and therefore has access to the castle and an insider's perspective into what's going on, which, if Ximena can get her secret messages out to the Condesa, will help them to overthrow the King.
In order to overthrow the King, Ximena needs to uncover where an ancient hidden relic is being kept. Ximena has the power of magic in that she can weave secret messages into tapestries using moonlight, and she later learns that she can weave animals in the tapestries that will come to life. In her mission to overthrow the King, she meets a mysterious vigilante who she begins to develop feelings for.
I really enjoyed this book! As you guys know, fantasy really isn't my thing but this one was so cute and magical I very much enjoyed it – the stuffed animals have to be my favourite things ever !!
❄️
Burnt Sugar – Avni Doshi
3/5 Stars
☆☆☆
This book was shortlisted for the 2020 Booker Prize which is one of the reasons I read it, also because the cover is very simplistic and beautiful – I really like it.
This story is…hard to explain, but it essentially follows a mother-daughter relationship set in India. Tara is the mother, who had affluent parents and basically became a runaway just to wind them up, essentially. She was fearless and did whatever the hell she wanted, and then she got pregnant with her daughter Antara, and kind of wasn't really too bothered about that either. Tara was a very self-centred woman and so growing up Antara was cared for mostly by other people, even though she always longed for her mother. The book is now set in present day where Tara essentially has dementia, and Antara is caring for her, but Tara is a horrible woman who makes Antara feel like crap, and Antara doesn't know how to deal with it because she resents her mother but also wants to help her, and no one is ever on Antara's side, they always side with Tara instead as they feel sorry for her.
That's an incredibly awful explanation of the plot but as I said this book is very complicated to explain – it was shortlisted for the Booker…after all.
A lot of people hate this book. They think it's dirty, disgusting and just…nasty.
And they're right. It is all of those things, but I personally wasn't offended by it because to me, that was the point of the story, so I didn't find myself hating or disliking it because of that. This book…just is what it is, I guess. It's very hard to rate it because it's kind of just…there, I appreciated the literary aspects of it and as a debut novel I'm impressed by the skill, but in terms of the quality of a story…eh. It was what it was. I didn't love it but definitely didn't hate it either. It's just kind of there, you know? If you're into literary fiction, I'd give it a go.
❄️
Little Fires Everywhere – Celeste Ng
4/5 Stars
☆☆☆☆
As mentioned at the beginning of this post, I read Everything I Never Told You before this and if I had to choose between the two, I'd definitely say I like that story more, though of course both are very good.
This book follows Mia Warren and her daughter Pearl, a mysterious single mother and daughter duo who popped out of nowhere and are now living in Shaker Heights, a town where everyone is perfect and rich, and nothing bad ever happens. They rent a house from The Richardsons, who have 4 children, and all 4 of them become enamoured with Mia and Pearl due to how mysterious and interesting they are – they welcome them into their lives wholeheartedly.
Throughout the book we essentially follow the relationships that each character has with each other whilst finding out their secrets and everything they're hiding. Celeste Ng just has this great quality to her writing and stories that when you're reading it, you just know it's a Celeste Ng novel.
The ending was a little too ambiguous for me and I definitely wanted more closure / explanation because I think the story more than warranted it, I'm not exactly sure it was much of a benefit to leave it as open ended as it was but there you go, I still enjoyed it either way!
❄️
The Dutch House – Ann Patchett
4/5 Stars
☆☆☆☆
A little number that's been on my radar for a while now with the most beautiful cover, I wasn't actually planning on reading this any time soon but I saw it on offer and just had to get it. This book is about…the Dutch House, a great big beautiful mansion-like house that was bought unexpectedly by Cyril Conroy, who was poor until his wife realised he wasn't…when her bought her the Dutch House. The story is told by Danny, Cyril's son, and his sister Maeve. The Dutch House is at the centre of their lives for their entire lives, and I really loved this story. I wish the Dutch House was real because I cannot imagine what it would be like to see it and experience it in real life…such a magnificent thing. I also think young Maeve is one of my favourite characters in a book ever, so smart and fierce and everything I want to be. I loved this story so much!
❄️
The Hand on the Wall – Maureen Johnson
3/5 Stars
☆☆☆
The third and final book in the Truly Devious series !! Did I love it? Absolutely. I think I read it in just over 24 hours. I can't really say much about this because obviously, it's the last in a trilogy but I do wish there had been more David in this one (I might have a crush on him, I might not) and I wish there'd been some big huge explosive ending though I understand why there wasn't. Out of all three books I think The Vanishing Stair was definitely my favourite, but this is the best series I have ever read and I thoroughly enjoyed it. I can't wait to read more of Maureen Johnson's work!
❄️❄️❄️
And there we have it loves!
All my love,
Chloe .xx
Goodreads – ChloLuna