Hello my loves,
Here's January's book reviews! 2021 was off to a great reading start.
📚
Breathless – Jennifer Niven
4/5 Stars
☆☆☆☆
Oh my lord this WOMAN.
Breathless is about Claude, a girl about to graduate high school who's inseparable from her best friend Saz and is obsessed with boys, kissing and sex. She's planning out her Summer where she hopes to finally get together with her ultimate crush Wyatt Jones, and it seems he likes her too.
But suddenly Claude's world is turned upside down when her Dad reveals he's leaving her and her mum. To get away from it all, Claude's mum takes herself and Claude to a remote island filled with family history, and Claude's summer plans are ruined…and so is her life. But then she meets Jeremiah Crew, and everything changes…
The synopsis to this book (or the way I described it anyway) sounds incredibly cliche and if I wasn't in love with Jennifer Niven I probably would have given this a miss however, Jennifer's writing is the furthest thing from cliche and I adore this woman.
As you guys may know, All The Bright Places is my favourite book of all time. It simultaneously changed and ruined my life in ways I'll never be able to explain and teenage me will forever be thankful for reading that book at the time that I did.
Nowadays, reading YA high school romances has nowhere near the same effect on 23 year old me because well, I'm older now, but I do miss the time when I could read things like that and fall in love with it.
And that's why I'll always be thankful for Jennifer Niven, because she enables me to travel back to that time and give me those feelings, no matter how old I am, because that's just how good she is. This book was like All The Bright Places apart from I didn't want to kill myself at the end of it this time. Joy! Her writing is just insane and it will always be my favourite, because she puts things into words I've never known how to, and she makes me feel seen. She writes things that feel like home to me, and I will be forever grateful to her for that. I love this book.
📚
The Girl Who Drank the Moon – Kelly Barnhill
3/5 Stars
☆☆☆
This is a middle grade (I haven't factually checked that I'm just assuming) about a town where every year they sacrifice a baby by placing it in the woods to be taken away by the evil witch who lives there, and in return the witch leaves the town alone.
Little does the town know this is all a load of rubbish, and the witch in the woods is actually a lovely 500 year old lady who doesn't understand why these poor babies are being left abandoned and therefore takes it upon herself to collect them every year and take them to a neighbouring town where they're raised by loving families and have wonderful lives. One year however, the witch accidentally "enmagicks" one of the babies and therefore has to raise the child herself, and all unfolds from there…
I read this because I'd seen a few people talking about it and you guys know me – anything to do with the moon, I'm there. It was a lovely story and at the end I was getting quite choked up because there was so much love in this book, it reminded me how lovely children's stories really are and how kind and how nothing bad ever really happens in them and yeah, I almost ended up having a little cry. Such a sweet book!
📚
Florida – Lauren Groff
3/5 Stars
☆☆☆
So I was originally planning on buying this a year ago to take on holiday with me which, obviously never happened because Corona made an appearance. This is a book of short stories about…you guessed it, Florida. My favourite was For the God of Love, For the Love of God (I would loved to have read a whole book based on just that story) and I also liked Salvador. The last story in the book though, Yport, I really did not like, it was the longest story in the book and it was just so monotonous and pointless, I'm not sure why Groff chose to end the book on that note as it nearly put me to sleep!
📚
The Virgin Suicides – Jeffrey Eugenides
3/5 Stars
☆☆☆
This story follows the lives of the Lisbon sisters, 5 mysterious girls who the residents (especially the boys) of Gross Pointe, Michigan are obsessed with and intrigued by. The girls ultimately all end up killing themselves at a young age, and we're told of their story by the outsiders looking in, who never really knew the girls, even though they thought they did.
I actually really liked this story, but I thought I would anyway. A lot of people don't like this book as they find it gross and objectifying and I get that, and a lot of people think the story is pointless, and again, I can kind of see why, but I just…really liked it. I think that in itself is the point of the book. The first half was a 4 star but after that it became a little blander and so it ended up being an overall 3 for me. I can see why people don't like this book but at the same time, I'm not sure those people really…get it? You either do or you don't I guess – it's kind of like mustard, you either love it or you hate it. In this case, I like mustard.
📚
Scythe – Neal Shusterman
4/5 Stars
☆☆☆☆
Oh man…what a book, and what a great series! This book is the first in the Scythe trilogy – I'd been seeing the books floating around a lot on booktube and I thought the covers looked really cool so I decided to check it out. As you guys know (because I've said it a million times) I really love stories like The Hunger Games, The Maze Runner, Divergent etc. and so when I heard about this series I actually bought the whole set which is something I've never done before (I usually like to read the first book and see if I like it before committing to buying all of them) but this one I just knew I was gonna love, and I was right!
This book follows Citra and Rowan, two teenagers living in a world that has become so advanced, death is no longer a thing. In order to avoid overpopulation however, it has now become a manual job that specially chosen people must do – and Citra and Rowan, much to their dismay, become chosen.
I really loved this book, it was so good – as I said, I knew I was going to love it straight away and I definitely did. I can't wait to start the second one!
📚
The Alchemist – Paulo Coelho
3/5 Stars
☆☆☆
Surprisingly not as many people like this book as I thought they would considering how popular it is. This book follows a shepherd boy named Santiago who travels far and wide to search for a treasure buried near the Egyptian pyramids. He meets a lot of people along the way and learns a lot of philosophical things.
I liked this book and found it to be pretty interesting – again, it surprised me that quite a few people didn't like it and found it overly pretentious (I can see where they're coming from but I didn't share that opinion), I think it's again another one of these books where you either get it or you don't, you either love it or hate it, like mustard. Again, in this case, I liked mustard.
📚
Elatsoe – Darcie Little Badger
3/5 Stars
☆☆☆
I bought this after hearing a booktuber say it was one of the favourite books of 2020 and I absolutely fell in love with the cover because well, it's gorgeous. This book is about Elatsoe, a girl who can summon ghosts and lives in a world of magic. One day, her cousin is murdered, and she makes it her mission to find out who's responsible and why.
The synopsis sounds fantastic and I was very much intrigued to read this book…but it just fell flat for me. This book should 100% be marked as a middle grade, which it isn't, and a lot of the reviews for it say the same thing. This book is clearly aimed at younger children but it's not marketed that way, and everything about it was just very unrealistic and kiddish for me. The writing made me cringe a little. This is also a debut novel so I can see why the writing was flawed in such ways, but there were too many things that kind of made the story…not good, in order for me to enjoy it as much as I wanted to and again, 100% a middle grade, even though pretty much no middle graders are the ones reading this (because we're told it's marketed for us older people instead). Still an okay story and I didn't dislike it but…yeah, just missed the mark for me. Still absolutely in love with the cover and concept though, and the illustrations throughout were beautiful.
📚
Kim Jiyoung, Born 1982 – Cho Namjoo
4/5 Stars
☆☆☆☆
I absolutely loved this book. This is a Korean translated novel (something I'm trying to actively read more of this year) about a woman named Kim Jiyoung, who has recently left her office job in order to care for her two children, but suddenly begins to develop symptoms of mental illness, that leave her family feeling worried.
This novel is feminist as fuck and I absolutely adored it. Being so invested in Korean culture in general, it was easy for me to understand this book because essentially, Korean culture is very conservative. Men are the ones who are expected to work – women are expected to stay at home and look after the children because men are seen to be better and are therefore on top at all times. Men are cleverer, men are the higher earners, men are the ones with more potential, men have to be babied and looked after. This book details Jiyoung's life as she realises how much she's been subjected to and has had to give up as a woman, and how unfair it actually is.
This book was a bestseller in Korea among housewives and middle aged women, as they too read it and realised hey, that's me, and that really warmed my heart to know. A lot of Korean men don't like this book because of how subconsciously feminist it is, and that makes me even happier.
I loved this book, I loved Jiyoung and I loved how the story was told, albeit it being incredibly sad. All of the praise for this book is more than deserved.
📚
Everything I Know About Love – Dolly Alderton
3/5 Stars
☆☆☆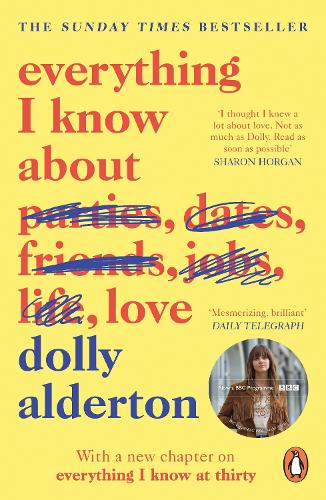 Everyone knows about this book so I won't spend too much time explaining it, but it's essentially a memoir about Dolly Alderton's life and all the love and life lessons she's learned throughout it. It was okay! It was a super quick read – I read it in a day, and it was…okay. I think the problem was that for me, it wasn't relatable (albeit I'm only 23 and Dolly is 30). The beginning part about online dating and MSN etc. was relatable, but then the rest just…wasn't. I felt like I was reading her just talk about getting drunk, doing drugs, partying and taking different men home but because it wasn't relatable for me I was kind of sat there thinking…what am I taking away from this? It was almost romanticised and I just wasn't getting it. The edition I had also included a bonus chapter about everything she'd learned at 30 and well…I couldn't even finish it because I just kept thinking oh my God, shut up. She was essentially hammering into the reader the fact that when you turn 30 your life is over and you're going to die and nothing will ever be the same again and it's the end of the world yada yada but here she was with all the tips to help you get over it and get through it. I just closed the book because I was thinking okay, get a grip. I'm tired of hearing you twitter on about nothing now.
…an okay read!
✨
2020
So I actually read the following 3 books in December 2020 but didn't do reviews on them in my December book post because I…couldn't be bothered, so here they are now!
Women Don't Owe you Pretty – Florence Given
I felt like this book was a little…preachy? Like at times it was kind of aggressive when it didn't need to be and I didn't like that. Sometimes it was a little condescending, it was kind of like "hey you stupid fucker, you need to do this in order to respect women, understand bitch?" and I was like…oooookay. Please calm down. This book didn't teach me anything I didn't already know about feminism, a lot of the stuff was kind of recycled stuff that was 2016-17 feminism so for me the book was a few years too late. As a feminist reading this, the point is to obviously educate others on feminism but I feel like Given went about this in the wrong way as again, it was a little condescending and aggressive. I have read other feminist works where the approach is a kind of "hey, you might not realise you're doing these sexist things or understand why they're sexist, so let me explain it for you and you can hopefully understand and change your behaviour" and I think that is the correct approach when it comes to things like this but again, Given didn't really do this. The tone was kind of just a bit off for me and I understood what she was trying to do but it just felt a couple years too late, as this particular book has already been written by…so many other people before. And in a better way. Sorry, Florence. You still get 3 stars for creativity and effort – I just feel like it missed the mark a little.
📚
Evidence of the Affair – Taylor Jenkins Reid
3/5 Stars
☆☆☆
I've had this on my radar for a while now so I was so happy when I saw it on Kindle for free!! This story is about two people, Carrie and David, whose significant others are having an affair with each other. Carrie is the first one to find out, as she finds love letters from David's wife in her husband's briefcase, and decides to write David a letter telling him what she's found, and she's so sorry to break the news. Carrie and David form a bond through these letters, as they are the only two people that know about the affair but are acting as if everything is normal, having to live each day with their significant others lying to their faces. I can't say more because of spoilers but for a short story this was so good, and I can't believe how much atmosphere and depth Jenkins Reid managed to created in literally 100 pages, if that!
p.s. I'm also 100% obsessed with the cover for this as it's gorgeous.
📚
Frankenstein – Mary Shelley
3/5 Stars
☆☆☆
I read this as I'm trying to make my way through the classics I haven't yet read and well, it was okay! Interesting concept and surprisingly I found some parts to be quite humours due to the extreme emotion that Frankenstein was feeling at !! all !! times!! Relatable I must say.
📚
And there we have it loves! I can't lie I think I've burned myself out with reading this month…I probably won't read half as much in February!
All my love,
Chloe .xx
Goodreads – ChloLuna