Hello my loves,
Here's a (delayed) April & May books!
☼
Daughter of Smoke and Bone – Laini Taylor
3/5 Stars
☆☆☆
I read this as it was 99p on Kindle and I enjoyed Strange The Dreamer which is the only book I'd read by Laini Taylor at that point. This follows Karou, a girl who's essentially raised by "monsters" and doesn't really know where she came from or why she doesn't have a human family. She does know however that there's lots of secrets being kept from her and as she journeys to find out what's really happening, she's followed by an angel, Akira, who's on a mission to kill her. That doesn't happen however, because *SPOILER ALERT* he basically falls madly in love with her and has to choose which side he's on.
I enjoyed this book, I have the second one already downloaded but probably won't read it anytime soon however, I will continue on with the story at some point. Not that I'm very well versed in fantasy because for some reason I can never seem to like it that much, but Laini Taylor is a really good writer and regardless of the actual content she writes, the way she writes it is always very good. I don't have a lot to say about this one unfortunately!
☼
Reviving the Hawthorne Sisters – Emily Carpenter
2/5 Stars
☆☆
So this is the sequel to Burying the Honeysuckle Girls which I read back in 2020 (review here) and safe to say…I didn't enjoy it as much as the first one. I've read all of Emily Carpenter's books now and despite the fact I only seem to rate them all 2 stars, I still keep reading them anyway because they're not a bad experience to read. I don't know if that makes sense. Like, the stories themselves are pretty rubbish because they're not all that fleshed out and whatnot, but the premise is okay and the writing is so quick to read that I somehow don't mind it. This story was pretty rubbish however, and it basically had no relation to the first one which I was quite disappointed about as I did actually enjoy the Honeysuckle Girls.
This story follows Eve whose grandmother Dove has just died and they need to keep a trust (???) going in her name. They need money and they discover that Dove owned the rarest coin in the world and it was never found after her death, therefore Eve sets off on a mission to find it in order to save her family and the trust. Eve knows that Dove was a con artist however and not actually a healer, but no one else will hear of it and of course, being on the trail of someone who had a sort of "cult" following, Eve runs into a few problems along the way.
It's all very unrealistic and ridiculous, to be honest. So many things happened that would just never happen in a million years, it was kind of making me internally cringe. They set out on this impossible, ridiculous mission and then magically people happen to volunteer information at exactly the right time and things fall into place just when you need them to which is something I absolutely hate in books. I like stories to be believable but when you're constantly hit with unrealistic events it just ruins it because all I can think is wow…I hate this book.
There's one scene where they're essentially searching for a needle in a haystack and they need tons of information in order to get even a tiny bit close to finding said needle, but then suddenly a "crazy woman" walks in and coincidentally begins shouting all of this important, necessary information from the rooftops and I was thinking…really? It's all just very obvious – everything is said very obviously and conveniently and way too easily. There's not much depth to anything, it's like Emily Carpenter is just like "ok this is my story and this is how I'm going to tell it so first this happens and then this happens and then this happens and there's no room for anything else just my story and that's it". It's all very 2D.
I feel like the more of Emily Carpenter's books I read the worse they get, as I've only read 2 that I would say are actually decent stories. Will I continue to read her books however? Yes, yes I probably will. I'll never learn.
☼
The Family Upstairs – Lisa Jewell
4/5 Stars
☆☆☆☆
This was an impulse buy as I don't usually buy books like this, I enjoy the genre but I think because the whole point of the story is to essentially be a thriller and nothing else…the substance isn't always there for me. Like, they're always quick, fun reads, but they never have any impact on me or change my life in any way, you know? So I don't tend to read them much, if at all. I had however heard great reviews for this book and after reading it, I can see why. I could not put it down. It was so fast paced and such a page turner. I really liked it.
This story follows Libby, a girl who was adopted when she was a baby and who essentially grows up to learn on her 25th birthday that she's inherited a multi-million-pound house in Chelsea that used to belong to her birth parents. There is however a story behind this and what actually happens to her birth parents, which she wasn't aware of before this. Libby was found in her crib in the abandoned Chelsea house, with her parents and other members of the household dead in the kitchen. Someone however had been looking after her throughout this time, and the mystery unfolds from there…
The book is split into different timelines of our protagonists, past and present. It was such a quick and fun book to read and as I said, I literally could not put it down – the absolute definition of a page turner. One thing I will say is that the title of this book doesn't really make a lot of sense – "The Family Upstairs" doesn't really convey the plot of the book very well. Overall though a really good book and one that I'm very glad I picked up!
☼
Ghosts – Dolly Alderton
3.5 / 5 stars
☆☆☆
I read Everything I Know About Love back in January (review here) and wasn't as impressed with it as I thought I'd be – I felt like it was trying a bit too hard. I saw the hardback of Ghosts for super cheap on Amazon though and couldn't not buy it because it was such a steal. I preferred Ghosts a lot more to EIKAL, probably because it was a novel and didn't sound as pushy. Ghosts is about Nina, a single woman in her early thirties who essentially keeps being ghosted throughout life and feels as though she's way behind everyone else on the timeline of life. It was good, but some of the things were a little confusing to me, for example I didn't understand why Nina's ex and her current boyfriend had to meet up ?? It was so weird. I also don't like Alderton's relatable forced millennial voice which is something I also said when I read Everything I Know About Love. I also don't get why Nina kept trying to talk to Angelo the neighbour when it was clear he didn't like her yet she wouldn't leave him alone, then kept blaming everything on him as if he was the problem, when she was essentially the one seeking him out ?? Don't get it.
Overall however, I really did enjoy it and would definitely recommend starting with Ghosts if you're looking to read any of Dolly Alderton's books – personal preference but I did think this one was much better and I'm glad I bought it.
☼
Radio Silence – Alice Oseman
3/5 stars
☆☆☆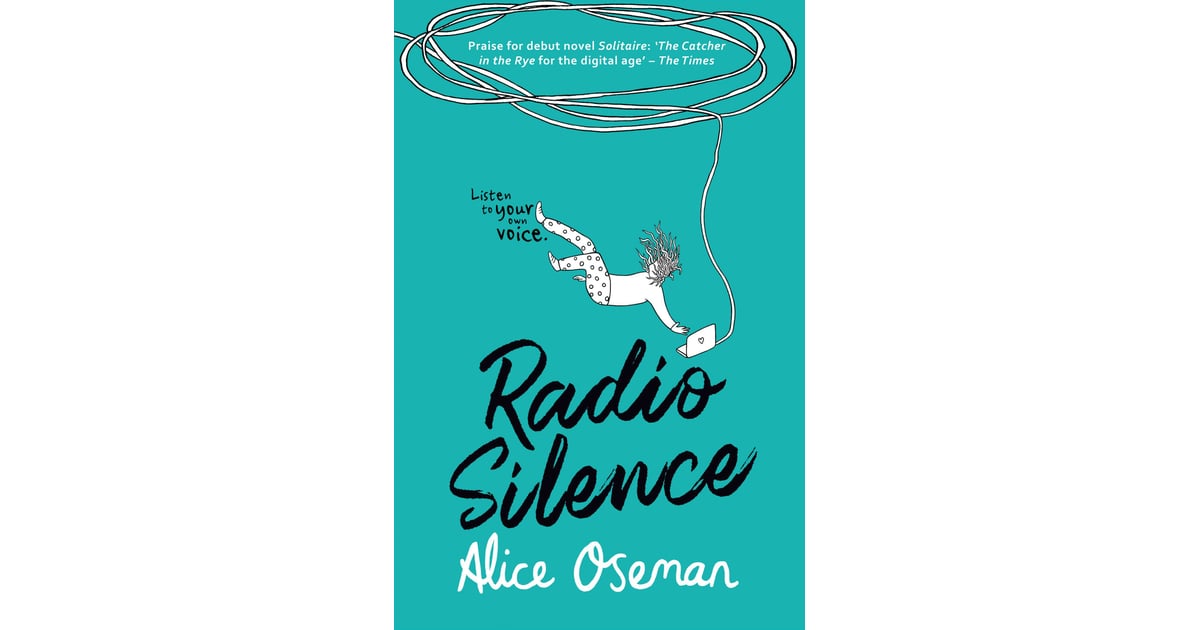 This is Kat from paperbackdreams' favourite book of all time and I finally got around to reading it. I feel like my thoughts regarding this are going to be a bit jumbled because that's how this book makes me feel, but I'll try and do this coherently.
This book is about Frances, a straight A student who's obsessed with an online radio Youtube show – the show itself is completely mysterious and nobody knows who makes it, but Frances is in love with it. Frances feels as though she can never really be her true self around her friends, or at school etc. – she always has to put on an act and be someone she's not in order to try and fit in, but there's a quirkier, sillier and more expressive side to her that she lets out behind closed doors, part of that being her love for Radio.
And then one day, Frances meets shy, quiet guy Aled, and they strike up an unsuspecting friendship that takes them places they'd never thought they'd go.
Alice Oseman knows what she's doing, I'll say that much. I wish wish wish I could have read this book when I was 16. I know for a fact it probably would have ended up being my first / second favourite book of all time and still would be to this day if that was the case. Oseman just gets it, she knows what it's like to be a teenager, to be young, to not know what you're doing and to be whimsical and silly and wanting to just lie under the stars talking about life. She just gets it.
I don't really know how to talk about my thoughts regarding this book because I feel like it's a little jarring in the sense that there's 16 year old Chloe and 23 year old Chloe, and there's a big gap in between the two and I'm trying to cross the feelings over for both in order to try and come to some sort of conclusion about how it makes me feel. I appreciate this book, and I can see why it's Kat's favourite of all time, because had I read it at 16, it'd be mine too. I can see it from a birds' eye perspective at 23, and see what it's doing for people and how it's doing it, and I appreciate it and I'm thankful for that, but I'm also not under that particular spell myself anymore, so I can read it and I can appreciate it and give Alice Oseman a huge pat on the back for her writing, but I'm also not changed by it like I would have been 7 years ago. In some ways I think that's better, because I can view the whole thing from higher ground and see it for all of its magnificence rather than being sucked into it and affected by it in sad or confusing ways. I think that's also a nice reading experience to have. I definitely cannot wait to read more of Oseman's work and I truly think we need more writers like her out there, for young people and the ones who have grown from their past tragedies, but can still appreciate the love and hard work that goes into such words anyway.
☼
The Book of Longings – Sue Monk Kidd
3/5 stars
☆☆☆
The Secret Life of Bees is one of my favourite books of all time, and so when I learned that Sue Monk Kidd was bringing out a new book (the first new one she'd brought out since I read The Secret Life of Bees) I was so excited and couldn't wait for it to be released.
And then it was, and I read the synopsis and essentially deflated and clicked off the page. This book is about Ana, the wife of Jesus. I am not religious, nor do I care about reading about Jesus on his travels, or his wife on hers. I kept going back to the book to see if my mind had changed at all since but it never had, one day however, I saw the book for 99p on Kindle and thought well…why not. Let's see if I can do anything with this. It's only 99p.
The book was actually not that bad. As I said, I'm not religious, and even though this is obviously a fictional novel, it's still hard for me to "rate" due to the content and my personal beliefs regarding it. I essentially read this novel as complete fiction, as in, Jesus was just a character and not an actual figure that was believed to have lived. I think the novel was very well written and I appreciated the strong, female presence throughout, which is essentially the whole point. The book is about Jesus' wife, not Jesus himself. It's about being a woman and trying to find your power and your voice, and I appreciated that. The content itself was obviously not my kind of thing, nor would I read anything like this again (the only reason I did was because I love Sue Monk Kidd as a writer) but I think going into it and regarding it all as complete fiction was a lot better for me. A good novel and one I'm glad I read.
☼
He loved me some days, I'm sure he did – Charlotte Eriksson
5/5 stars
☆☆☆☆☆
This is a poetry / essay collection and I saw a preview of it on an Instagram ad, and the second I read a couple of the poems…I was sold. I was like, this book is going to be something I absolutely love. And I was right.
It's very hard for me to describe how much I love this collection but, Charlotte Eriksson just gets it. She gets it. It was like I'd closed my eyes and written every single one of these words myself, and it's so scary when somebody writes the things that your soul has been trying to say for the longest time. I could relate to every word on the page, I understood everything. I tend to write in a way that's cryptic almost, I write poetically but only in a way that will make sense to me – I write about things and people but I don't specify any details, so you can read my work and get the feeling of it, but you can't understand what it's about, because the references won't make sense to you. I write in such a way. Charlotte Eriksson does the same. And I read her words and I thought wow, we are the same.
I absolutely loved this collection so, so much. It was just like reading something I'd written myself and she just…understood me. She gets it. I can't wait to read more of her work. This is what I mean by reading things by writers, Charlotte is a true writer. I think she might be my twin.
☼
And there we have it loves!
All my love,
Chloe .xx
Goodreads – ChloLuna