Hello my loves,
Here's a (very delayed) June books!
☼
The Vanishing of Audrey Wilde – Eve Chase
3/5 Stars
☆☆☆
This book follows the four Wilde sisters – Margot, Flora, Pam and Dot. They used to go to their cousin Audrey's house, Applecote Manor, every Summer when they were younger, until one day when Audrey goes missing and is never seen again. Audrey is never found and the family is in ruins forever, refusing to speak of the magical girl that vanished before their eyes. Until one Summer years later, when the Wildes have to stay at Audrey's house again for the Summer, and the story unfolds…
This novel follows two timelines – past and present. We follow Margot, the Wilde sister that was closest to Audrey before she disappeared, as we learn of the events that unfold that Summer when the Wilde sisters are forced to return to the house they haven't visited for so many years. We also follow Jesse, the wife of the family that have moved into the now abandoned Applecote Manor 60 years later in present day, as they learn of the house's history and the mysteries surrounding it.
Eve Chase is a beautiful writer, I will say that absolutely. The actual story was a 3 – 3.5 but I gave it 4 stars overall because of the writing and how beautiful it was, Chase just really knows what she's doing and I very much appreciated the beauty in her words and the way she chose to convey them. I'd definitely be interested in reading more of her work in future!
☼
Malibu Rising – Taylor Jenkins Reid
3/5 Stars
☆☆☆
My first thought when finishing (and, throughout reading) this book was…what was the point? And I guess that was the point, really. There wasn't one.
I was so excited to read Malibu Rising and pre-ordered a signed copy as soon as they went on sale, I was patiently waiting for the release date to arrive and when it did I couldn't start reading quick enough. It's possible that my excitement and pre-hype for the book made my actual experience with it all the more disappointing, but I just feel like there wasn't really any point to the story. Kind of felt like TJR just needed to write a new book and here it was.
This story is set in Malibu and follows the Riva family – Mick Riva (one of Evelyn Hugo's husbands, if you've read the book) a rockstar who married his childhood sweetheart, June (before he became famous). Then there's the Riva children – Nina, Jay, Hud and Kit. We learn about how Mick became a famous rockstar and the (many) mistakes he made along the way, including leaving June multiple times and therefore allowing his children to grow up without a father in their lives. We learn of how the Riva kids grew up and the young adults they turned into until we reach present day. Nina Riva is a famous surfer who married a famous tennis player and lives in a huge house by the ocean, and every year she throws an annual Riva party – this year is no different, however, a little bit more unfolds this year than any of the Rivas could have been expecting.
This story felt like 40% plotline, 60% surfing. Which is fine, if you like surfing, but I didn't care for it all that much and so reading a book that was heavily based on surfing was a little…eh for me. Since it was set in Malibu I would've really loved for there to have been more focus on Malibu itself as a historical, sunny, holiday place – very vintage America, you know? I feel like TJR could've really set the nostalgic scene since this book was set between two timelines, but it was all just surfing. Surfing surfing. Waves. Rocks. Surfing…and a bit more surfing.
I didn't really feel attached to any of the characters in this book, they were just kind of there and I wasn't too bothered about them. I felt like because the story was set over 24 hours and there were so many characters you couldn't really get invested in them, nothing was fleshed out. There was also lots of talk about random people we'd never heard of before, like a chapter would be dedicated to a random person we'd never heard of and we'd get 3 pages of their life story and then that'd be it and the story would move on and we'd never hear of them again and it left me feeling like ??????
Also…Casey. No spoilers but, what was all that about ????? So weird how everyone was just so accepting like "yeah okay this must be true guess you can come and live our life now" ????? Very odd.
I don't know if TJR tried to do too much with this book, but I think Mick Riva's life itself could've been a whole separate novel in itself – one that I would've loved to have read and would have rated much higher. Nina and the rest of the Riva kids could've then had their own book (this one) and I think that would've worked much better. Overall, the story was fine but definitely not one of TJR's best, I didn't really see the point in any of it, couldn't get invested in any of the characters and didn't like how much time we spent talking about surfing.
☼
The Anthropocene Reviewed – John Green
4/5 Stars
☆☆☆☆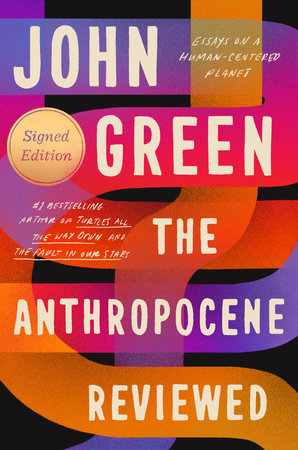 I love John Green. A whole lot. When I found out this book was coming out I was very excited (especially since I managed to get myself a signed copy) because a new John Green book = happiness. When I found out it was non-fiction I will admit my heart deflated a little, but I was still looking forward to seeing what I was going to be reading about.
John Green will always have a special place in my heart for many reasons, because for me he's the epitome of YA. I have a strange relationship with him and his books, as I essentially fell in love with them before he became this huge household name, before TFIOS was all anyone was talking about, before it became this big, cliché Tumblr romance that had everyone writing "Okay? Okay." to each other at every given opportunity. I know for a fact that if I'd discovered John Green after this, or had read for example TFIOS after it had become this huge, overhyped phenomenon, I wouldn't have been half as impressed or liked it half as much. That's just the way things work for me. That wasn't the case however, as I read TFIOS when it first came out, I was 15 and had heard a few people talking about this really great book, so I decided to buy it on my Kindle. I read it and absolutely fell in love. I've always been a reader, but between the transitional period of reading for example Jacqueline Wilson's entire catalogue of books when I was 12 and every other children's book up until that point, there were a few transitional years where I stopped reading. TFIOS for me was what got me back into reading as a teenager, as I discovered what YA was and fell in love with it. I remember getting to the last quarter of the book and having to put it down because there was no way I could finish it, I remember sitting at the top of my stairs and reading a particular sentence in the novel, and just closing my eyes, putting the book down and bawling my eyes out. I cried and cried and cried and then I thought, how am I going to finish this book? How am I going to carry on now?
My experience with TFIOS was one I'll never forget and as I said, it's what got me back into reading as a teenager. From that moment on, I loved John Green and the fact that he is the most incredible writer. I was so thankful that people like him existed, because books like that, words like that, are what teenagers like me needed at the time. He just got it. Do I love all of his books? No. They're a mixed bag for me – I loved TFIOS, and Looking for Alaska is one of my favourite books of all time. I hated an Abundance of Katherines, and I thought the Paper Towns movie was better than the book (a rare occurrence for me). I liked and enjoyed Will Grayson, Will Grayson, and there's a couple of others I haven't even read yet. The Anthropocene Reviewed is nothing like any of his other books, it's John Green in his purest form, talking about his opinions on life and the things that exist within it, for example Canada Geese or the iOS Notes App. Throughout reading this the constant thought in my head was, what a pleasure to have John Green's voice in my head every day, what a pleasure to be able to listen to him and have his little words of wisdom given to me in bite-sized pieces every day. John Green is an incredibly intelligent man, he's not afraid to be vulnerable and honest and I'm so glad to have read this book, which I will most probably return to at many stages throughout my life. It felt like I had a friend in him, which I suppose I do. Everyone has a friend in John Green, he's just wonderful like that.
In true John Green fashion, I give the Anthropocene Reviewed 4 stars.
☼
The Girl at the Back of the Bus – Suzette D. Harrison
3/5 Stars
☆☆☆
I saw this for 99p on Kindle and thought it looked interesting, this story follows a family set between two timelines of past and present day, in present day we meet Ashlee Turner, a black woman facing all of the struggles and inequality that living in a predominantly white-male world presents, and we follow Mattie, Ashlee's grandmother who, back in the day faced a lot of challenges of her own. One day, Mattie witnesses Rosa Parks' refusal to give up her seat for a white citizen on the bus, as Mattie is also on the same bus, and witnessing this phenomenon changes Mattie's perspective on everything.
I thought this book was so brilliantly done and the racial aspect of it was so educational, well-written and informative whilst still being smoothly woven into the story.
☼
The Five People You Meet in Heaven – Mitch Albom
4/5 Stars
☆☆☆☆
I think this was one of the first books I ever added to my TBR list and it's been on there since probably around 2015. 6 years later, I finally got around to reading it! I really love Mitch Album's writing as I think it's always so kind and lovely. I read Tuesdays with Morrie back in 2017 (review here) and absolutely adored it, so I knew this book would be one I also loved, and I was right! In this book we follow Eddie, an elderly man who passes away and upon entering Heaven, meets 5 people that were significant in his life and taught him lessons, even if he didn't know it at the time. Through meeting these people we learn about Eddie's life and what his purpose was on Earth as he often wonders why he lived such a meaningless life.
This was such a beautiful book and as always, Mitch Albom is such a comforting writer. Can't wait to read more of his stuff.
☼
Gods of Jade and Shadow – Silvia Moreno-Garcia
3/5 Stars
☆☆☆
Since reading Mexican Gothic I've made it my mission to read all of Silvia Moreno Garcia's books, this one had actually been on my TBR for a while anyway and so it made sense to make this the next book of hers I read. It was…okay. If I'd read this book before Mexican Gothic I probably wouldn't have been too keen on picking it up if Gods of Jade and Shadow was anything to go on. This book follows Cassiopeia Tun, a girl who is essentially the fantasy version of Cinderella and is a servant in her grandfather's big mansion. One day her family go out on a day trip leaving Cassiopeia home alone, where she decides to enter her Grandfather's room, which is always forbidden. She opens a locked chest and a God that has been trapped in there for years pops out, he gets a bone shard stuck in Cassiopeia's skin which then binds her to him, and she then has to accompany him on his journey to reclaiming the throne which was stolen from him which in turn, will get the bone shard out of her hand, as if it's not removed, she'll die.
It took me ages to finish this book because well, have you read the plot? I really liked Cassiopeia as I really love the way Garcia writes her heroines, and it was definitely the same kind of feeling as Mexican Gothic but, I think the whole God concept in this sense just didn't really work for me as I'm not the biggest fan of fantasy to begin with. Excited to carry on reading more of her work in the future though!
☼
Bunny – Mona Awad
4/5 Stars
☆☆☆☆
I don't even know where to begin with this book. I'll start by saying that writing-wise, this is one of the best books I've ever read. Ever. It was absolutely insane. It was so close to being a 5 star read for me but the end of the book plot-wise was a bit of a let-down so I had to give it 4 stars. The writing though? Probably some of if not the best I've ever read. I can't even describe it. I was going to try and write a whole in-depth review about this book because I have so much to say about it but in most ways it actually left me speechless and so now that I've come to write something, I'm not sure what to say. Here's what I had down in the notes app on my phone as I was reading Bunny:
Insane
So fucked up
Creepy
Made me feel like I was under a spell whilst reading it
Made me feel like I was in a cult whilst reading it
Mesmerising
Trancelike
Love the Virginia Woolf references throughout
So good I want to scream
Every sentence meant something
So evocative
Delicious
If that gives you any indication…just read it. Read it now.
☼
All my love,
Chloe .xx
Goodreads – ChloLuna